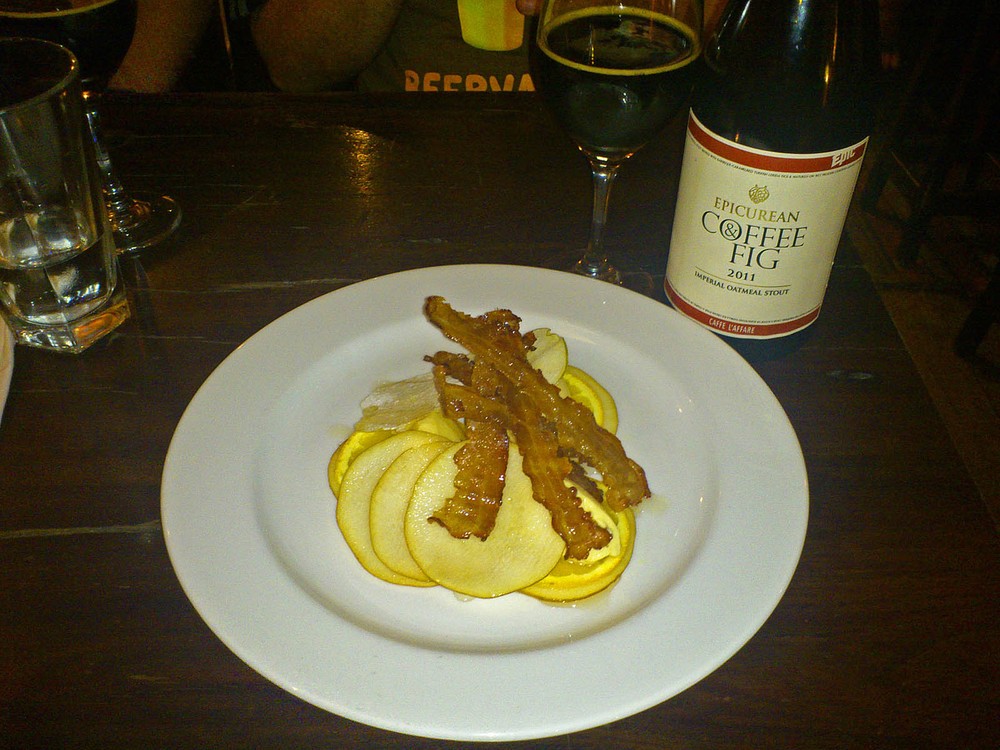 Simply outstanding craft beer pub, excellent food with sweet, sweet Bacon Candy!
When you think about an Irish pub/bar, you think about Guinness (or any dark Irish stout) on tap, and rowdy/drunken Irishmen (or Kiwis in this case) spread all around. But O'Carroll's Freehouse is not your average Irish pub and you will be quite surprised by the end of the night.

Located on Vulcan Lane in downtown Auckland, it's flanked by numerous other trendy pubs, bars and eateries. It definately have that homely, warm local pub feel when you walk in with varnished wooden tables, stools and bar area. The dozen or so beer-taps serves up good New Zealand craft micro-brew beers, and the fact that they have Epic Armageddon IPA as a regular feature is a very good sign. They also have a comprehensive bottle selection in the fridge showcasing the best of what NZ craft brewery scene has to offer.

We had a look at their food menu and decided to grab dinner here. I ordered a classic steak and fries, while my friends went for the beef ragu on fettuccine special and a cajun chicken sandwich with fries. Food arrived 15 minutes later and well presented, and we proceeded to tuck in.

I always considered eye fillet to be rather boring, but the one I ordered tonight did not disappoint, I requested it rare and it arrived rare with a nice seared crust, the baby vegetables (broccolini and carrots) sweet and tender, and the hand cut fries (more like wedges) are nice and crunchy on the outside, fluffy on the inside. A glass of No.8 Wired Batch 18 barrel aged imperial stout (12.5% ABV) paired with the steak very well. Across the table the chicken sandwich looks absolutely delicious, and the same goes for the beef ragu next to me.

With such a lovely main course and beer match, we decided to follow on with dessert. I went for the Ice Cream Treat, which consisted of thinly sliced apples, peanut butter, coconut, Jack Daniels, and... bacon candy. How can I resist bacon? In fact I requested extra bacon candy with my order. And let me tell you, when it arrived at the table and bite into the strips of bacon... it's possibly the best food item I've tasted so far this year, so very sweet yet savoury. We all shared a bottle of Epicurean Coffee & Fig imperial oatmeal stout (8% ABV), which paired extremely well with our sweet treat.

This place is extremely underrated in my opinion. The food might be old school pub classics, but it's done right and the quality top notch, the beer selection fantastic and best of all, excellent value for money. In fact, their bottled craft beers are priced barely above what you get from the supermarket/liquor store, and yet you're sitting in a pub downtown!

If you love food, and love beer, you should definately head down here and enjoy a nice night out.
Quality

Top notch quality, with all the "me too" bars around Auckland, it's simply refreshing to see craft beers on tap and in bottles on offer here. The food is also great, the chef and kitchen team here definately knows what they are doing.

Service

Warm and friendly atmosphere, the bar and wait staff knows their stuff. If you can't make up your mind as to what to try, simply ask away and you'll be greeted with some great suggestions. Like any bars in downtown Auckland, orders may take a while longer to arrive on a Friday and Saturday night, but trust me, well worth the wait.

Value

Excellent value for what you get here, in fact some of the prices on their bottles of beer are on par with what you pay for at the supermarket or liquor stores. In fact if you are a S.O.B.A. member, you get an extra discount and you'll end up paying even less than what you buy and drink at home.

Bathrooms

Bathrooms are a tad small, but well equipped with everything you'd expect. Nice tidy and clean.