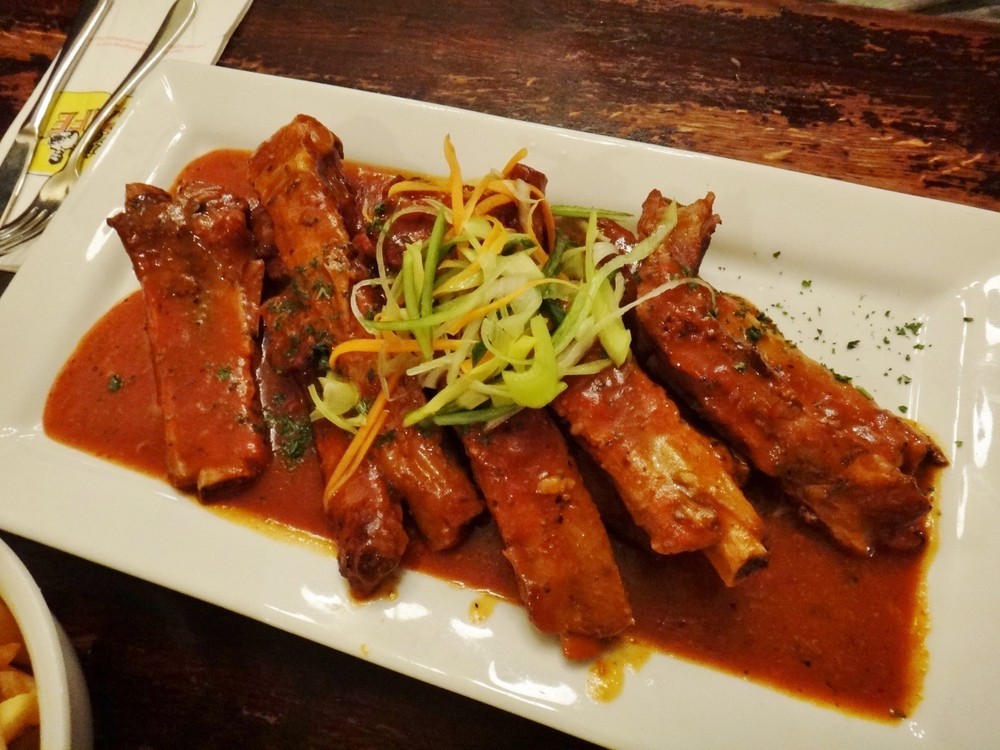 Sure to delight beer and non-beer fans alike
Belgian Beer Cafes are a bit of an institution around Auckland, and the Mission Bay branch is no exception. What better way to spend a lovely afternoon or evening than a stroll along the beach, some drinks and mussels at De Fontein, and then join the hordes queuing up for Movenpick downstairs?
For those who've grown tired of walking into bars and seeing identical beers on offer, the Belgian Beer Cafes are a breath of fresh air. If you want to play it safe there's Stella on tap, but you could also branch out and try the Hoegaarden White, Leffe Brune or even Belle-Vue-Kriek cherry beer. And that's not even getting into the over 100 bottles available on the 'Magna Carta Fermenta'...
For those looking for a more bar-style experience, the downstairs area provides plenty of room, with leaners and stools arrayed around. Sit down meals are more for upstairs, where the outdoor tables give a great view across to the beach during the day. Even on a wet and cold Tuesday evening the upstairs area was abuzz with diners, in contrast to the downstairs area which was a little quieter and lacking in ambience - though I'm sure this wouldn't be the case on a nicer Friday or Saturday evening.
Whether you're just after a beer, a light snack or a satisfying dinner, De Fontein is a solid and consistent performer in the Mission Bay strip which won't disappoint.
Quality

It's called a Belgian beer cafe for a reason, and the vastness of the beer menu is simply mind boggling.The Maredsous dark beer which was recommended by the wait staff (due to the fact it was brewed by monks) was indeed very nice. Even people who usually shy away from beer should have a go at things like the fruity beers. And if you've just won Lotto, you might like to tick off the ones on the 'beer bucket list' - priced at around $100 per bottle. Even the actual pouring of the beer at your table is impressive, with an appropriately shaped glass and everything. Definitely not your usual pint! These establishments are famous for their mussel pots, and first time visitors (and mussel fans) should definitely give it a go, but the rest of the menu is very appealing and appropriately-themed too - from schnitzel to sausages, and served with stoemp, a traditional Belgian side dish. We had the spicy pork ribs which turned out to be amazingly delicious - the ribs were perfectly cooked, meat falling off the bone, and the rich tomato sauce had just enough heat to make it interesting, but not *too* spicy. The accompanying fries were also nicely crisp on the outside while being soft and hot on the inside, not underdone as you find in many other places. Highly recommended!

Service

Staff were as warm and friendly as the lighting and decor (i.e. very warm) - appropriately attentive without being smotheringly so, and were quick to offer advice on the beer choices without being prompted. Drinks and food arrived fairly promptly, and even though they forgot a piece of cutlery this was quickly rectified with an apology.

Value

You'd be hard pressed to find many other places in Auckland which would sell a $100 bottle of beer, but the prices at the regular end of the scale are completely accessible, and given it's a whole different experience to your bog standard pub, definitely good value for money. Food-wise portions are certainly generous, and it's nice that they offer you a choice of either light meals from the $15-20 mark, to larger mains at $20-30 - perfectly reasonable for bar-style food.

Bathrooms

While one of the cubicles had some stray toilet paper which needed cleaning up, overall the bathrooms were fine and spacious enough.