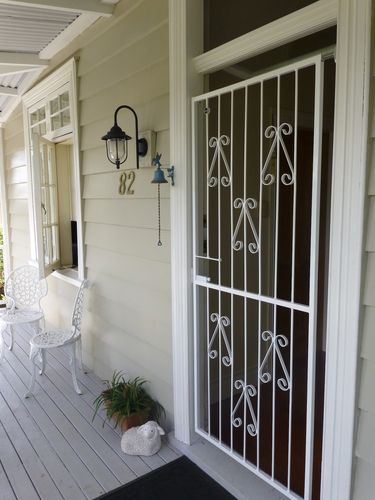 SECURITY DOOR - 'LOUISE' DESIGN NOW AVAILABLE AT MEGA MITRE 10 FROM $649
Can't wait to have an Adorable Dora made for you?  Then see if one of these 'low price' Louise design security doors would suit!!
Some things you need to know before deciding a DORA "LOUISE" design is right for you.
Our doors come in standard 3 sizes
Size A - Door frame width measuring 735mm-785mm
Size B - Door frame width measuring 785mm-835mm
Size C - Door frame width measuring 835mm-885mm
The height of a Louise door fits a frame measuring a minimum of 1970mm.    Common door heights fall in this range up to 2080mm.  Your door jamb inner depth will need to measure 40mm or over.  A Louise design is able to be hinged on either the left or right.  Once you measure your inside door jamb width and the height and the inner jamb you are sorted!
Then get along to your local Mega Mitre 10 store and ask for the size you need.  Please note: they may not have it in stock on the day and will have to order it in for you.
You can also order your 'Louise' design through any representative at Miles nelson if you enquire at the email address below
orders@milesnelson.co.nz
CHILDREN & PETS SAFETY GATE
A safety gate or barrier can stop your toddler slipping outside while your back is turned. On average, 5 children a year die from being run over in private driveways.
This quality NZ made children's safety gate is simple in design and specifically been manufactured to fit standard size NZ front and back doors.   Dora Safety Gates are designed to protect our young kids from the perils of driveway accidents.  They also double to keep precious pooches safe too!
Increase airflow, light, and sun into your home
Let your children and pets connect freely and safely with the outside world.  A DORA safety gate has been manufactured specifically for external use on front and back doors under sheltered environments.
With 3 sizes to choose from our system will work in the majority of timber framed doors in NZ. Installation is straight forward or have your local handy person do it for you.   If you have aluminium joinery thats no problem,  we have aluminium kits available on request. 
Ideal protection for external front and back doors
900mm high with easy twist lockable spline key
Unique adjustable toggle to fit 3 door frame widths ranging from 735mm-885mm
Quality NZ made
Easy to install or relocate
Currently being sold into Mega Mitre 10 stores.  Visit our website www.doradoors.co.nz for more information